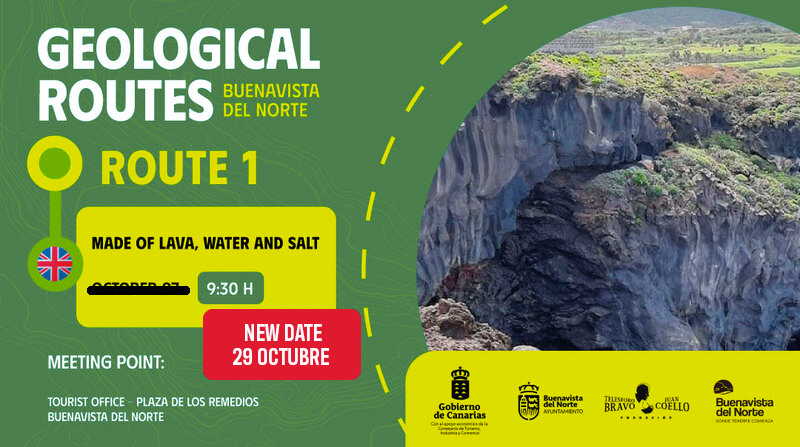 Due to the ALERT SITUATION because of the HIGH TEMPERATURES, the organisation has been forced to postpone this route. New date pending
Guided tour: Fundación Canaria Telesforo Bravo-Juan Coello.
DETAILS
Difficulty: Medium.
Duration: 3 hours and 30 minutes approx.
Linear. At the end, includes transport to return to the Plaza de Los
Remedios.
Distance: 4,88 km.
Recommendations:
Sportswear.
Sports shoes.
Cap or hat.
Walking sticks.
Sunscreen.
Light coat.
Water and light food for the route.
Description of the itinerary:
This itinerary is a representative sample of a coastal ecosystem with amazing geological values. During the route you will be able to admire characteristic elements of the coast of Buenavista del Norte: from columnar disjunctions to formations generated by the erosion of salt or stone roses. In addition to deposits caused by highly explosive eruptions and tsunami deposits generated by the gravitational landslide of La Guancha valley to Icod, or places as emblematic as the lightning, generated by sea erosion.
The following landmarks will be visited on this route:
Stop 1. Blanca Gil Cove.
Stop 2. Los Ruices natural swimming pool.
Stop 3. La Viguita.
Stop 4. Punta de las Lajas Lavic Platform.
Stop 5. Cliffs of the Cove of Los Guinchos-Punta de las Lajas.
Stop 6. Pyroclastic fall deposits.
Stop 7. Buenavista´s lighthouse.
Stop 8. Pool of El Rayo.
We invite you to take part in this initiative promoted by the tourism
department of Buenavista del Norte Town Council, with the economic
support of the Department of Tourism, Industry and Trade of the
Government of the Canary Islands and the technical coordination of the
Telesforo Bravo-Juan Coello Foundation.